It is not surprising that there have been no further butterfly sightings in the County during January 2019 given that we have had frosts on 12 mornings so far this month here in Derby (compared to 10 mornings in January 2018), some of them being a hard frost which meant that the maximum daytime temperature didn't get above 3&degC. It was even colder in the Peak District with lying snow adding to the very cold conditions in that part of the county.
However a lack of sightings hasn't prevented a number of events relating to butterflies being organised for 2019 including the following:-
1. The Annual Transect Training Sessions by Pat & Ken Orpe in the offices of the Derbyshire Wildlife Trust (DWT) at Middleton by Wirksworth will take place on the following dates : – Wednesday the 6th of March 2019 from 1.30 pm to 4.00 pm. To book this free event please telephone Elizabeth Woodward on the Reception at the DWT (01773 881188) – places are limited to 30 volunteers for this event and it will be on a first come first reserved basis. If you cannot make the last date, then another has been arranged at the DWT offices at Middleton by Wirksworth – Friday the 8th of March 2019 – from 10 am to 12.30 pm – details all as the last item.
2. Wednesday the 13th of March 2019 – an illustrated talk on 'The Butterflies of Derbyshire' by Pete Clark at Riddings Park Community Centre, West Street, Riddings DE55 4EW commencing at 7.30 pm – entrance fee is £2, students and children free.
3. Friday the 12th of April 2019 – an illustrated talk on 'Monitoring the Changing Status of Butterflies in Derbyshire' by Ken Orpe at the Evergreen Club, Cornhill, Allestree, commencing at 7.15 pm for Derby Natural History Society - entrance is free to members and guests are charged at £2.
4. Hoe Grange Quarry Open Day – Sunday the 21st of July 2019 from 11 am to 4 pm (see the attached leaflet for details and parking etc). Last year this event attracted over 450 butterfly and wildlife enthusiasts and it has become quite a social event with teas and free ice creams available courtesy of Longcliffe Quarries. Steve Orridge and Ray Walker will be carrying out a moth watch during the previous night (Saturday the 20th of July 2019) so we should have some live moths to show visitors on the following day.
I have been carrying out some research on Hoe Grange Quarry this month with the idea of creating an interpretation board on the history of the site and unbelievably back in the year 1902, the site was found to have bones of 27 animal species present including lion, rhino, elephant, grizzly bear, wolf, wild boar and hyena which could have been located in a den within a sinkhole some 1 million years ago – interesting that some animals still exist in the quarry including badger, rabbit, frog, redwing and robin. There is an exhibition currently at Buxton Museum on the 'Wonders of the Peak District' and this contains a display of some of the bones that were found in Hoe Grange Quarry all those years ago. Well worth a visit according to Ray 'Badger' Walker, the Warden of Hoe Grange Quarry. I have also had some help from David McPhie of the bookshop at Brierlow Bar near Buxton whereby David has confirmed that there was indeed a railway siding into the quarry off the High Peak Railway and there was also a narrow gauge system within the quarry – I understand that the lines were removed in the 1950's when road transport became easier.
During this winter Mick Ball, Butterfly Conservation Moth Officer for Derbyshire and Notts, has been compiling a detailed summary of the current status of the 'Moths of Derbyshire' – if you would like a copy of his Report then please send me an email and I will forward to you a copy of the document which contains details of the status of approx 500 species of macro moths that have been recorded in the county during the last 30 years.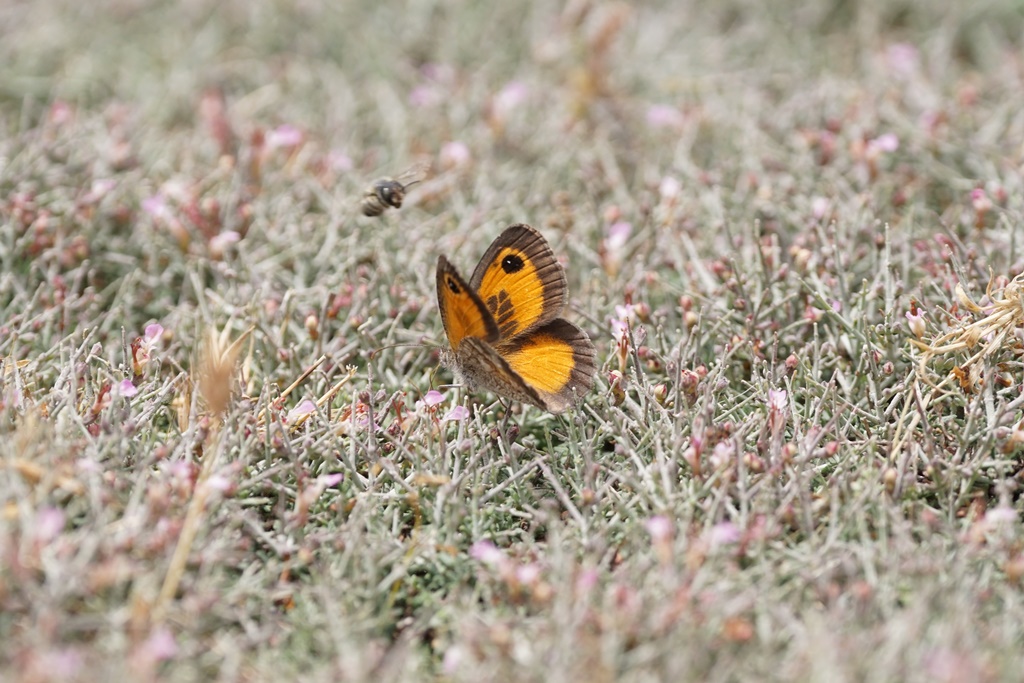 Finally I have attached some more photos of butterflies that members of this egroup have seen in Europe – this time they are of relatives of species that can also be found in other parts of the UK.